In 2020, a 90-year-old woman, Madam Denteh, was publicly lynched to death in the Savannah region in Ghana after being accused of witchcraft. The video of the lynching went viral and attracted police and national security investigations, resulting in the arrest of some of the perpetrators. Like in many parts of the world, a belief in sorcery and witchcraft still exists in Ghana, and accusations of witchcraft are followed by social stigma and discrimination. While both men and women have been accused of witchcraft, the accused are disproportionately women. In some cases, they have been murdered and mobbed following allegations of witchcraft against them.
"Witch camps", isolated locations to which women accused of witchcraft are taken and held against their will, still exist in Ghana today, specifically in the northern region, where poverty is also widespread, compared to other areas of the country. Witch camps are also places where it is believed that the evil spirits can be exorcised by a spiritual leader known as the Tindana. As of 2020, there were four camps; Gambaga, Kukuo, Gnani, and Kpantiga which host approximately 277 women and 250 children. The standards of living at the camps are poor, with limited access to shelter, water and sanitation. The phenomenon of witch camps in Northern Ghana has been around since pre-colonial times. With the increase in media coverage in the past few years, the situation at witch camps has been further exposed, with reports of old(er) women being accused of using witchcraft to cause illness, misery, and calamities.
The "inmates" are almost always subjected to various forms of abuse that include physical attacks, public humiliation, destruction of properties and ostracization. In a community where women are often expected to be in total submission to their men, a 2008 report by Action Aid showed that in one camp "– Kukuo – more than 70% of residents were accused and banished as witches after their husbands died. In a patriarchal society, a woman without the protection of a father, husband, or sometimes a brother, is extremely vulnerable to being labelled a witch. The survey also found that almost a third of the women in Kukuo camp were not engaged in any form of economic activity before they were banished there. This implies that others see them as not 'useful' to their community." There is a high correlation between the perceived non-contribution of women to the economic needs of the household and witchcraft allegations.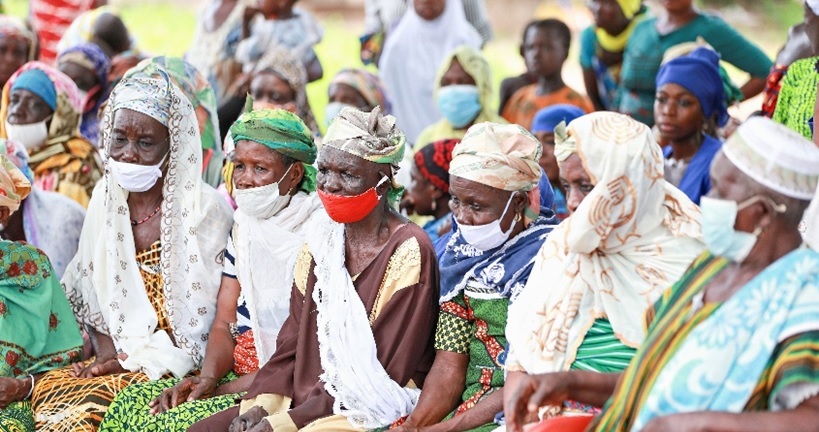 Since 2017, the STAR Ghana Foundation has collaborated with Songtaba, a local organization that has spent the last ten years empowering and supporting women and children of the Northern Region of Ghana, to work towards the protection of gender-based violence. The collaboration has contributed to the formulation of four district by-laws that put in place tribunals to resolve conflict and violence associated with witchcraft accusations.
At the onset of the COVID-19 pandemic, and as many communities relied on each other to provide social safety nets, accused "witches" faced an even larger risk of marginalization, with ostracization a common reaction from families and communities. As a response to this, STAR Ghana supported Songtaba to conduct rapid research on the state of social protection for alleged witches; this led to an expanded enrolment and support for alleged witches onto the government's Livelihood Empowerment Against Poverty (LEAP) and National Health Insurance (NHIS). However, even as this happened, accusations of witchcraft continued with other women being sent to the witch camps. In 2021, through a joint programme, "Innovation for Localization" undertaken in partnership with the GFCF, the NEAR Network, Save the Children Denmark and the West Africa Civil Society Institute, STAR Ghana embarked on an ambitious agenda to actively raise domestic resources from communities to support women living at the witches' camps. Given that witchcraft accusations come from the same communities the accused women are from, initially, we thought that communities' response to resource mobilization to support survivors of witchcraft accusations would not yield many positive results. However, we soon realized there was a willingness among communities, especially from women who donated material items – clothing, food items and detergents. As they donated, they engaged more actively with the issues and became more aware of the need to become agents of change for women's rights. Young people were willing to volunteer their time to go around the communities and successfully fundraise in support of the accused witches. The enabler to all this was the in-country partner, Songtaba, an organization with strong social capital in these communities. Songtaba is a word in the local dialect that means "helping each other."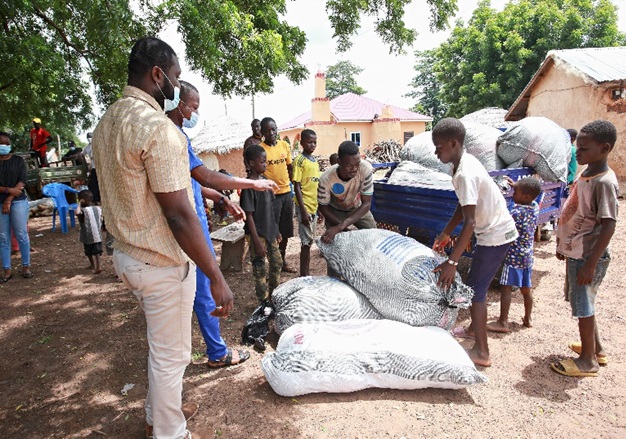 What we have learned is proof that partnerships with locally rooted organizations do stimulate responses, as they enjoy deeper levels of trust from their communities in advancing new concepts and ideas, particularly those that shift mindsets.
Before the fundraising kicked off, influential young people took on the roles of volunteer advocates and mobilizers. They discussed the dangers of witchcraft accusations and the camps on radio and durbars (a public event to re-kindle community bonds and unity, usually involving cultural music and dance). Within four months of the project, the project team had received a range of significant in-kind contributions and cash from the community to support the conditions and rights of the women accused of witchcraft. Community philanthropy was unfolding before our eyes in what we had thought to be an unlikely place.
What happened in Northern Ghana is proof that communities can also be active funders for human-rights work within their locations, and that community philanthropy can be used to address issues of discrimination and enforcement of human rights in the long run. This was the "Innovation for Localization"project's objective: to use local resources as an entry point to building communities' capacities of ownership, and as co-investors to challenge harmful practices while adopting new practices that protect vulnerable persons and the rights of women.
Eunice Agbenyadzi is the Programmes Manager at the STAR Ghana Foundation, Feruzah Salisu is a Programme Officer at STAR Ghana Foundation and Lamnatu Adam is the Executive Director at Songtaba.
---