The World Right Now: Philanthropy Is For Everyone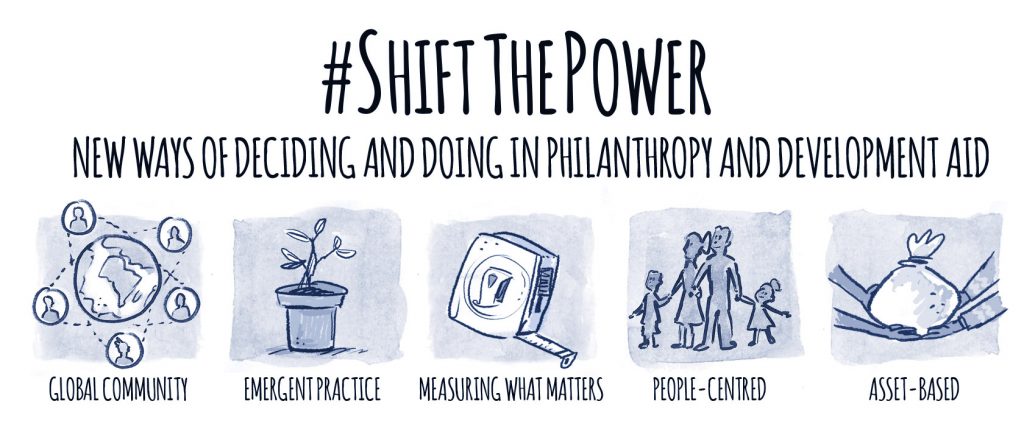 For too long, the global south has been cast as a passive beneficiary in international aid and philanthropy. The global north has assumed the role of the paternalist saviour.
Over decades, this relationship has produced an unhealthy power dynamic that manifests itself in ideas that do not work because they fail to see the strengths in the cultures of societies in the global south.
The collapse of aid during the COVID-19 pandemic highlighted the weakness of the current system. It showed its long-term failure to devolve power and resources to new, democratic and participatory practices and approaches designed to vest power and responsibility among local people.
More Than A Hashtag
The #ShiftThePower movement has emerged over the past decade as a result of dissatisfaction with top-down structures that fail to deliver. We are coming together to insert new voices in the development knowledge economy and to explore new ways of deciding and doing.
We stress that development is a result of social forces that exist in communities, and people within those communities are best positioned to define their own development and to navigate long-lasting and dynamic solutions. We are re-imagining a system that harnesses the power of relationships and collective resources, instead of focusing on artificial results, competition, and quick one-size-fits-all solutions.
The Hashtag #ShiftThePower
The #ShiftThePower hashtag first emerged at the Global Summit on Community Philanthropy held in Johannesburg in December 2016, hosted by the Global Fund For Community Foundations.
The Summit celebrated the growing movement of community philanthropy led by community foundations, women's funds, environmental funds, and grassroots grantmakers, that have gone unnoticed among mainstream philanthropy and development. The movement invites a broad range of actors working to change the current top-down development, philanthropy, and aid system.
A few years later, the Global Fund For Community Foundation held a Symposium in London titled Pathways to Power, which focused specifically on deepening and joining up theory and emergent practice – both bottom-up and top-down –around shifting power closer to communities.
A treehouse to #ShiftThePower: about this space
This "treehouse" idea emerged from the sprouting of multiple conversations and consultations that followed the Pathways to Power Symposium, as well as discussions that took place at the height of the COVID-19 pandemic. The purpose of the treehouse – which will be curated with and by members of the movement (with secretarial support from the Global Fund for Community Foundations) – will be to weave together narratives and practices and build movement generosity. Our aim is both to celebrate and elevate emergent practice, and to influence and change the current philanthropy and international development system.
Interested in taking a turn at curation? Contact us: [email protected]